On All Ends
Part 2: The Light
This logo is worth 40 billion dollars.
It belongs to the rarest kind of unicorn – a profitable one.
Canva is the fifth-largest startup in the world. Its founders are billionaires many times over. And they plan to give it all away.
"It has felt strange when people refer to us as billionaires as it has never felt like our money. We've always felt that we're purely custodians of it. It's long been our intention to give the wealth away."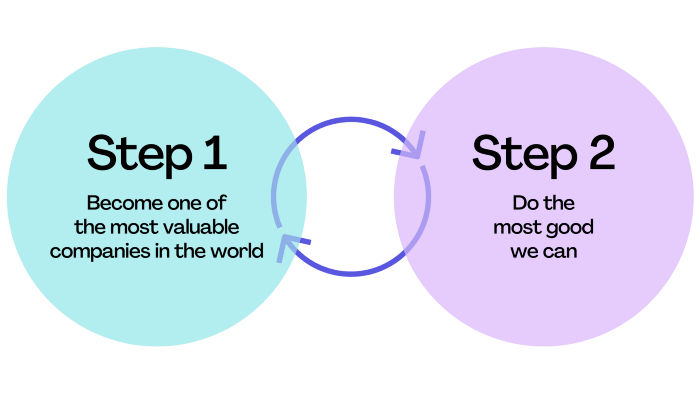 Step 1: Be Rich
Canva is, at the heart, photoshop online.
The founders believed that design was something that should be accessible to the many, not the few.
Regardless of your location, socioeconomic status, or even experience with computers.
This year, Canva will USD 1 billion in annualised revenue from 60 million monthly users. They are backed by the likes of Franklin Templeton and Sequoia Capital Global Equities.
For most, this would be enough. For the ambition at Canva, this is step one in their grand plan.
Step 2: Do Good
The thing about "doing the most good we can" is … we are never done. We only ever feel like we are scratching the surface of what's possible in this space.
In a Medium post, Perkins announced that she and co-founder Obrecht would be donating the majority of their equity, almost 30 per cent, to the Canva Foundation.
The foundation partnered with the non-profit GiveDirectly to distribute USD 10 million to the poor in Southern Africa.
Already:
Canva has given away their premium product for free to 130,000 non-profits
Planted 2 million trees under Print One, Plant One – planting a tree for every print order placed through Canva
Allocated 45,000 volunteering hours each year – 3 full days for everyone at Canva
Reached out to 10 million users through Canva for Education, a free product tailored for students
Aussie Tech for India
After the oxygen crisis in India, they collectively launched the Aussie Tech for India with numerous Australian tech companies and investment firms.
In partnership with Medical Oxygen for All, the campaign raised funds offering financial and logistical support to source and purchase oxygen in India.
Furthermore, all proceeds from media purchases on Canva were donated directly to relief efforts in India.
The Question
Last week, we showed you a firm whose apathy would destroy countries – the darkest end of environmental impact.
This week, we bring a startup whose commitment to healing the world is intensely tied with their personal growth.
Canva believes that there is enough money and goodwill in the world to solve most problems.
Perkins and Obrecht, billionaires, are willing to devote their lifetimes to it.
What do you think?
Can doing good be the fulcrum of your growth?
Is Canva an anomaly, or can this business model be rationalised?