With over 1.4 million personnel, India flaunts one of the biggest military forces in the world. Its military budget is the 3rd largest in the world. And a major part of it was used to import defence technology.
The need for developing indigenous technology in defence is now stronger than ever. Moving towards a self-reliant future, the Indian government has made multiple reforms under the Aatmanirbhar Bharat Abhiyaan. Over 70% of the funds have been reserved for the domestic defence industry. The defence manufacturing sector is now completely open to private. Innovations for Defence Excellence (iDEX) is an initiative of the Department of Defence production through which it aims to create an ecosystem to foster innovation and technology in Defence and Aerospace Sectors. Under this initiative various events have been conducted like the Defence India Startup Challenge. The selected projects receive funds, and work closely with the military to develop indigenous technology. With these actions, the expenditure on defence imports has come down from 46% to 36% in the last four years.
To encourage Indian developers and manufacturers the government also releases a Positive Indigenisation List, which contains a list of items for which there would be an embargo on the import beyond an indicated timeline.
"Hereafter, the Acceptance of Necessity (AoN) will only be given to indigenous defence manufacturers. We will come more than half a distance to meet your aspirations. We will give you all the facilities that are required, whether it is equipment, testing facilities, and, most importantly, our time."

-Lt. Gen BS Raju, Vice Chief of Army at North Tech Symposium in May 2022
A LOOK AT THE NUMBERS
The defence sector in India has 194 startups, compared to 284 in the United States. The defence manufacturing sector in India witnessed a Compound Annual Growth Rate (CAGR) of 3.9% in the years from 2016 to 2020. Defence exports from India saw a 54.1% rise with exports worth US$1.6 billion dollars in 2021-2022. In the same year Indian Defence production was evaluated at US$10.9 billion. The government aims to achieve production of US$25 billion by 2025. The FDI for the defence sector stood at US$10.15 million, according to the Department for Promotion of Industry and Internal Trade (DPIIT).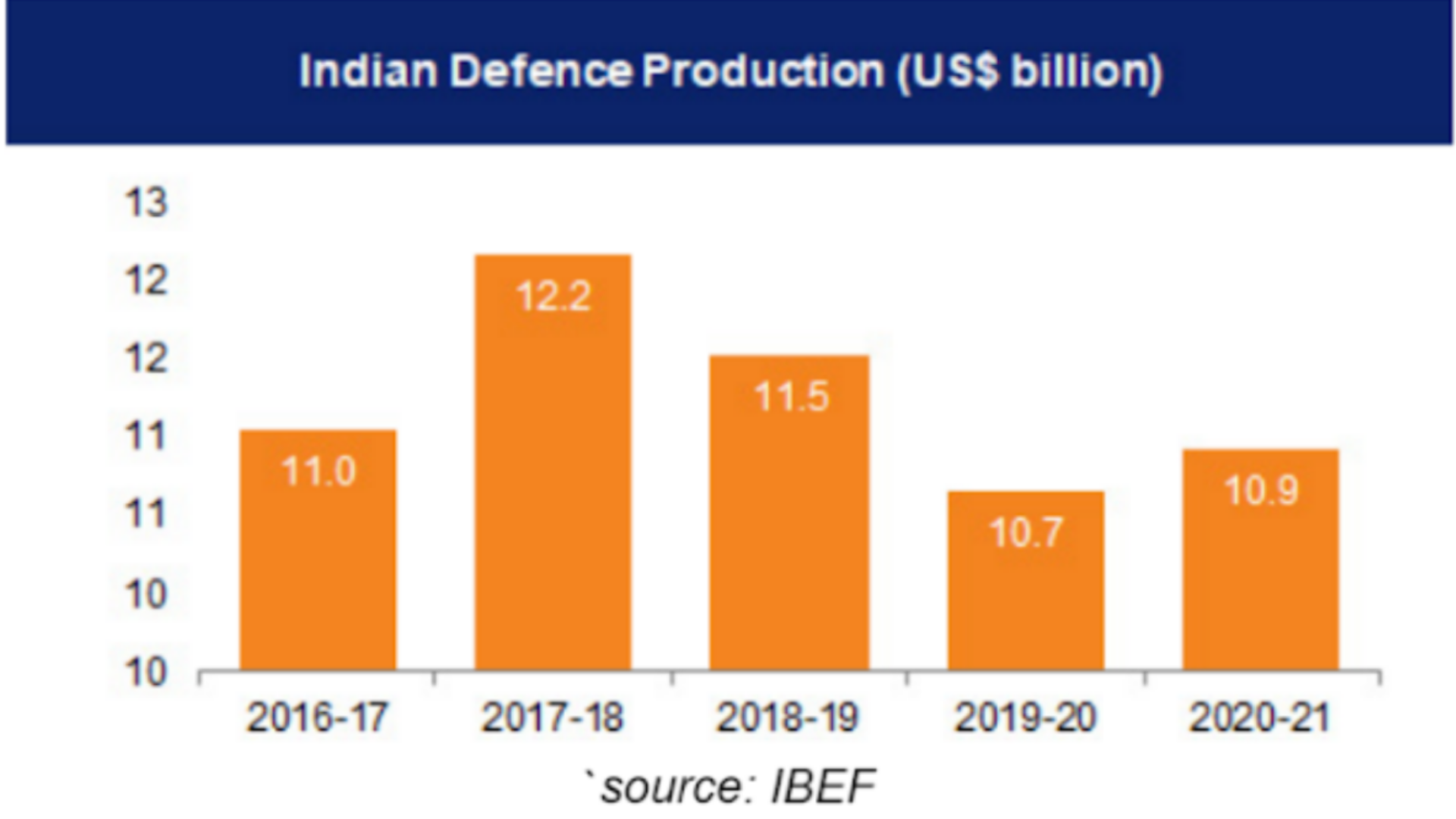 STARTUPS
Let us take a look at some Indian startups working on innovative defence technology.
ideaForge, a Mumbai-based startup founded in 2007, provides drone solutions for vast applications - security, surveillance, surveying and mapping, search and rescue, intelligence, and reconnaissance.
Torus is a Chennai-based startup which develops unmanned vehicles, robots and machines. They developed an autonomous unmanned ground vehicle with a robotic arm to ferry heavy loads for the Indian army.
EyeROV makes underwater inspection safer, easier, and economical. Traditional inspections were conducted by highly skilled Scuba Divers. This poses a high risk and limits the depth which could be covered. The underwater Remotely Operated Vehicles (ROVs) can spot a crack in the hull of a ship and inspect underwater pipelines through real-time feed.
Big Bang Boom Solutions is a deep tech Chennai based startup which focuses on developing innovative indigenous defence technology. AI powered autonomous unmanned Tank Plugins, drones for riot control, Smart Fencing System which can detect threats and take appropriate countermeasures, an enhanced combat armour, armour piercing ammunition are some of the projects that the startup is working on.
The functionality of most of these technologies is not just limited to defence, but they find application in everyday life for surveillance and security as well. This increases the market for these startups, and helps them thrive.
CONCLUSION
Although the military is slow to adopt new technology, every effort at research and development of indigenous technology takes us one step closer to achieving Aatmanirbhar Bharat, a self-sufficient India. Will India be able to achieve its goal of complete indigenisation and become a superpower in the years to come?