Mobile phones, consumer electronics, computer hardware, LEDs, and Industrial electronics are some of the segments that comprise India's vast electronics manufacturing industry.
With the increase in the quality of life across the country and the growing dependence on electronic gadgets, the consumer electronics industry has seen remarkable growth. The development in the sector has been further accelerated by The 'Make In India' and 'Digital India' programmes launched by the government, which have made it easier for entrepreneurs to establish and expand their businesses.
The 'Aatmanirbhar Bharat Abhiyaan' has further backed these initiatives by providing economic support to MSMEs and brought us closer to our goal of transforming India into a global technological hub.
The current statistics
India is already considered a manufacturing hub, and its electronics production has increased from US$ 29 billion in 2014-15 to a whooping US$ 67 billion in 2020-21. The electronics sector of India contributes around 3.4% of the country's Gross Domestic Product (GDP).
In its vision for electronics manufacturing in India, the Ministry of Electronics and Information Technology claimed that the electronics manufacturing industry will grow from US$ 75 billion in 2020-21 to US$ 300 billion by 2025-26.
Manufacturing output of electronics sector in India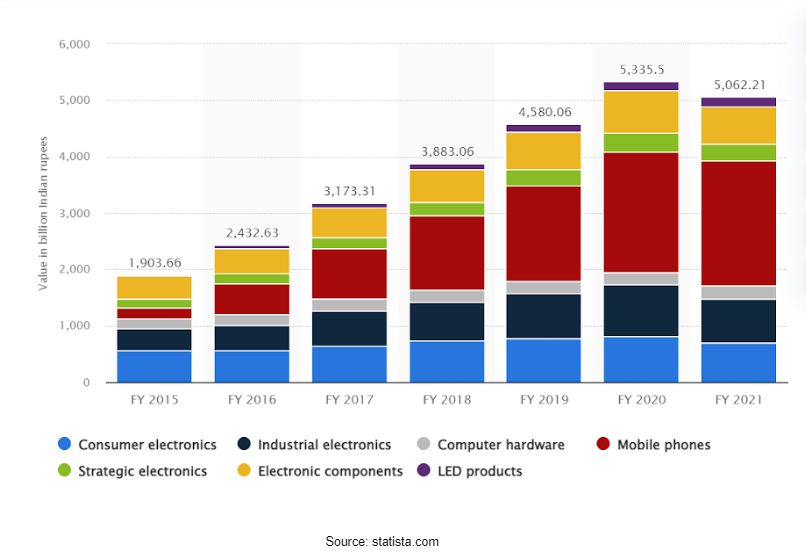 Let's look at some startups revolutionising the electronics sector in India:
Attero, a Noida-based startup, focuses on e-waste management. Using indigenously developed, patented technology, Attero sustainably recycles materials and extracts the pure metals to reuse them. They plan on recycling about 11000 MT of Li-ion waste in India by October 2022.

Founded in 2014, Noise is a startup that aims to become a household name among young Indians through its modern, affordable smartwatches, headphones, earbuds, and accessories.

Atomberg is a startup that develops household appliances like ceiling and pedestal fans, mixers, etc. It manufactures high-tech, energy-conserving, and sustainable home appliances for the convenience of the average Indian.

Headquartered in India, Servify is a startup operating across three continents today. It provides 'device lifecycle management services for all devices used in everyday life. From device care programs, subscriptions, and upgrade offers to buyback programs and uncomplicated returns. Service boasts of customer-friendly post-purchase services.
Conclusion
Despite the innovation and development in the electronics industry, a significant problem faced by the companies is the lack of availability of certain electronic parts in the country—a large percentage of these need to be imported from China and Singapore.
Localising the supply chain, having a network of dependable vendors, and focusing on RnD are some of the essential steps the companies have directed their attention towards to overcome this challenge.
We hope for their success in turning India into a technology-driven, sustainable economy!