I was raised on stories of Tata's greatness.
Even today, Tata remains India's most valuable brand; and its most trusted corporate house.
Yesterday, when papers announced Air India's return home, people rejoiced. Today, Tata Motors raised USD 1 billion for its electric ambitions. Tata Power is on a bull's run through the stock market. But that might not be enough.
Tata's customer products stagnate, and its star is waning: a slow, conservative legacy brand in an age of 10-minute deliveries. One that no longer inspires the same awe in younger generations it did for their parents.
Enter, the Super-App.
TataNeu plans to be a one-stop destination for all online offerings – food and groceries to insurance – consolidating the vast Tata empire under a single label. This alone is not new. Aggregators in the digital space have been around for centuries.
What TataNeu offers, is scale. TataNeu brings a 300 billion dollar worth empire to the digital space.
The 'conservative' moniker is not without cause. Tata long resisted investing in retail e-commerce, despite the emergence of giants like Flipkart and Amazon. To remedy this, Tata acquired startups BigBasket, 1mg and cure.fit.
BigBasket, particularly, will be the crown jewel of the Tata super-app, as its flagship e-commerce initiative.
The Challenges
To ensure customer retention, Tata will offer a cross-brand loyalty programme. Unfortunately, this might as well be their biggest challenge. Remarkably decentralised, the companies that form Tata Groups have long resisted sharing consumer data.
Given that Tata might allow other brands on the platform as it has with Tata CLiQ, users must consent for their data to be shared across brands. Tata will also have to integrate numerous services, some competing, along with joint ventures such as Tata Starbucks.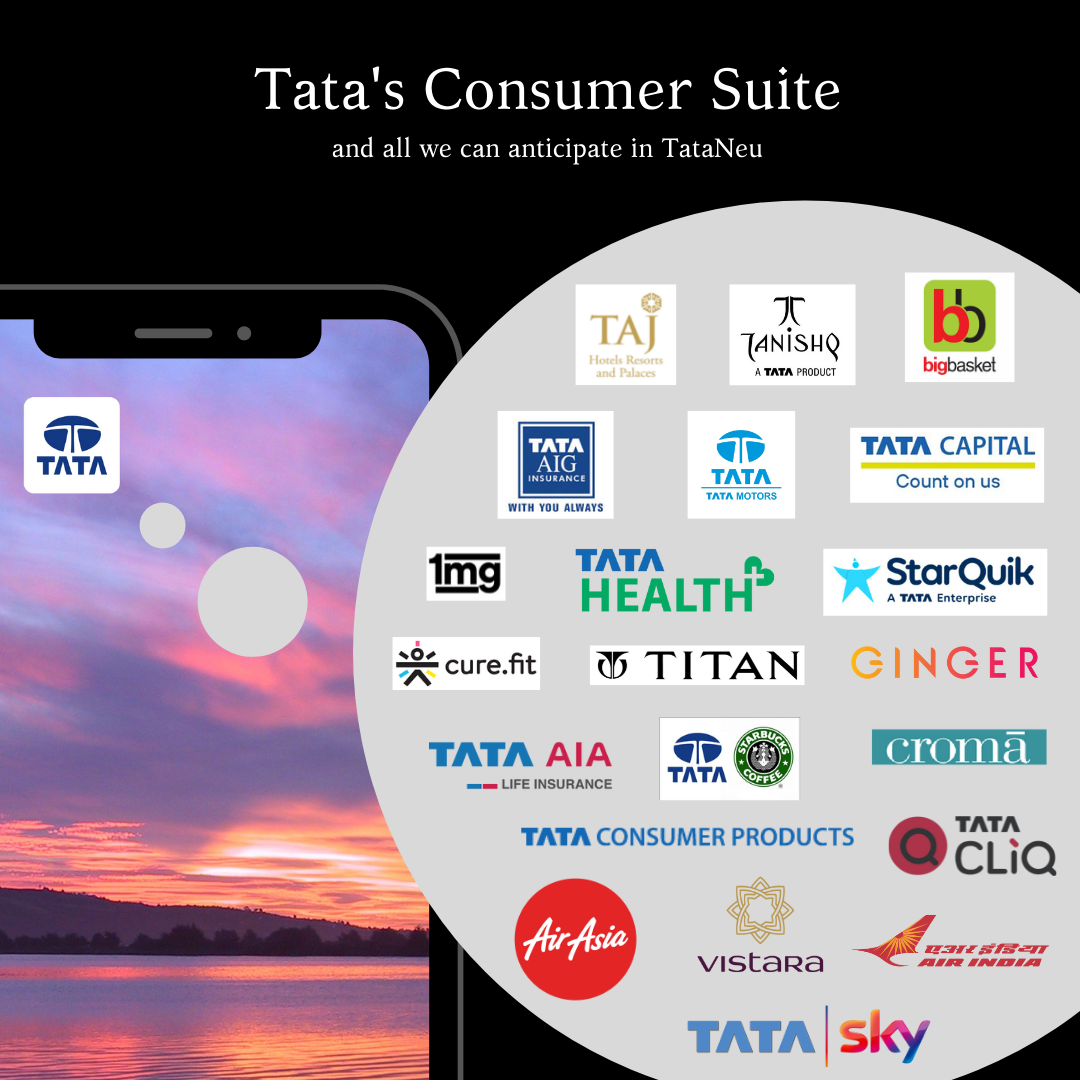 But Tata is undaunted. It will phase a pilot run amongst 7 lakh employees over the next few months, and has shared the app amongst senior employees. One individual in question, speaking under conditions of strict anonymity, admitted that it still needed a few tweaks to be market-ready; hopefully, the pilot run would sort it out.
"What you need to understand is, this is do-or-die for Tata. Ambani's funding drive for [MyJio] spooked them. Either TataNeu succeeds, or Tata's D2C resigns itself to slowly fading away."
So then.
Can the Tata's make this leap?
Is this Tata's new great frontier – from salt to super app?
Only time will tell.