We have all heard of venture capital firms like Sequoia Capital and WestBridge capital investing in startups during funding rounds. But what exactly are these firms?
Venture capitalists are essentially people or companies who invest in business ventures at a certain rate of return. Venture capitalist firms consist of a team of analysts who decide which industry and startup to invest in to get maximum returns.
Venture capitalists are not usually looking for stable companies, they are looking for high growth potential which leads them to take significant risks which is why they expect exponential returns.
They invest in companies in exchange for equity (which is a part of the ownership of the company) this gives the VCs a degree of control over the company. For some entrepreneurs who have great ideas but lack business experience, this becomes a boon as many VCs are business experts who can use their experience to guide startups to the path of profit.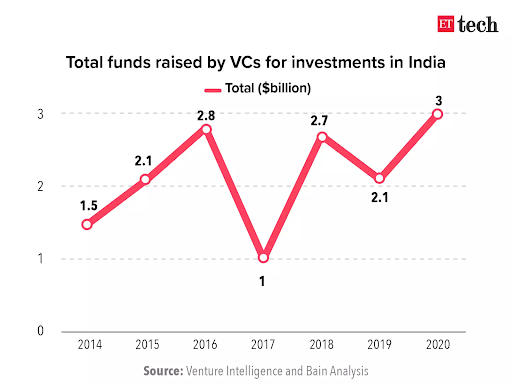 Venture capitalism has become very popular as conventional methods like traditional banks may not be viable for many early-stage, innovation-based startups. This is because the possibility of negative economic results for some time is very real and it's difficult to predict the success of any venture right at the beginning.
So where does the money invested by these venture capitalists go?
Capital provided by venture capitalists is not for long-term investment. A large portion of the investment is used to improve the infrastructure of the company and therefore help it reach sufficient size. After this, the company often enters public equity markets or is bought by corporations.
The need for venture capital has only risen in the past few years as the Indian startup ecosystem has kicked off to greater heights. While some startups avoid VCs to retain the ownership of their company, others benefit from both the capital and the expertise of the venture capitalists. Needless to say, VCs have become an integral part of India's startup ecosystem.