As our epics and scriptures convey, India has a rich tradition of respect and honor for its teachers. In the new era of digital learning imposed by COVID, teaching continued online and became one of the business sectors that saw a major boom. The recent funding in FY3 suggests that the boom could be short-lived.
The fiscal year (FY) is the period organizations use for recording their business activities, income, and expenses. It has a time frame of 365 days, 12 months, or 52/53 weeks.
Skimming through the Data
The startup ecosystem has been disrupted by a decrease in funding in FY3 with edtech startups being the worst hit. As per a recent report, the funding for edtech startups stands at $2 billion, a decline of 41% from H2 2021 (July to December). This has also been reflected in the number of employees offered a pink slip. Over 4000 employees were laid off by edtech startups alone. Surprisingly, even Unicorns like Unacademy, Vedantu, and WhitehatJr, have laid off over 3000 employees collectively. Even some companies have shut operations in lieu of facing losses.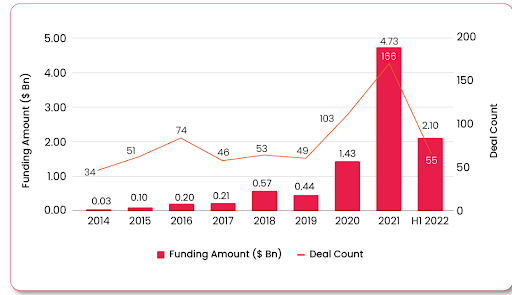 What's causing this funding steep?
Though we saw many edtech companies minting into the elite list of unicorns this year, what has been their challenge in FY3? With students returning to school, the number of students enrolled in online platforms is decreasing. Hence, the revenues of these startups and their funding are falling. Though sponsoring star sports events such as IPL and FIFA lead to a market capture, it can also prove costly during losses. The policies of the Indian government have also limited their scope. The government is also keen on curbing some of the unrealistic proclamations about students' performances by online platforms. Another major setback is the UGC's order that prevents Universities from offering degree courses in partnership with edtech players.
Flexibility to Sustainability
Given the numerous hardships faced by the whole sector, some companies have managed to maintain their riches. Well, what makes the difference? It is quite convincing that the big and established brands have retained to be favorites. The companies that drifted with the changing pace of the scenario have outperformed others. For instance, companies like Byju's and the new unicorn PhysicsWallah have turned to hybrid modes of teaching, by acquiring existing offline institutions.
" Enhancing adaptability in this challenging time is vital to sustaining the competition. "
-Nikhil Barshikar, Founder & CEO, Imarticus Learning
Many industry experts express the importance of flexibility of ideas in this rapidly changing market condition. It is important to connect with the customers and review their insights regularly. This "Customer Building", by suiting the customers' flavors can be vital in keeping your brand name fresh in their minds. Same as we expect individual attention in in-person classes, personalized content and assignments are expected from online platforms also. This goes in hand with technological developments. Blending your ideas with new-age ideas like ML, AI, and Gamification can elevate the platform's brand.
The decline in learning principles
The edtech startups seem to provide an easy solution for the students through their homework help and quick learning revision sheets. But these features also demotivate students from preparing their own notes and pondering on their work on their own. Coding has also evolved into tender kids, who code over play in their leisure time.
Digital University - A Welcome Note
"We are expecting that the Digital University will start offering some certificate and diploma courses from January 2023 onwards. We are aiming to start full-fledged degrees from next June-July onwards"
-Prof. M. Jagdish Kumar, Director of UGC
Though the government has imposed restrictions on edtech startups, it has been reviewing ways to promote the booming sector. The government is aiming to launch a "Digital University", in a "Hub and Spoke model" wherein the government has centralized control. Through this, the universities can provide online courses to a wide range of students from Class 12 pass-outs to Graduates independently or in coalition with edtech companies.
Conclusion
It's expected that the edtech industry will reach $30 billion in the coming decade. Also, Indian parents leave no stone unturned regarding quality education for their wards. This is high time for startups and startup enthusiasts to rethink and revise their ideas to accommodate today's hybrid learning needs. The scope is high! Evolve to Uphold!