Indian products are of great demand in other parts of the world. Shazar Stone is obtained from Ken river which flows in the west of Banda district Bundelkhand region. From obtaining the Shazar stone to trimming and shaping it, the craft involves a lot of hard-work and expenditure. This stone is used for making jewellery and other decorative items. It is considered sacred by Muslims as it is mentioned in Holy QURAN as the 'healing stone' so it is of great demand in Arab countries. It is just one among the many.
In this blog, we take a closer look at the government scheme ONE DISTRICT ONE PRODUCT that aims to promote a product from each district.
The ODOP initiative aims to select, brand and promote One product from each district of India. It was launched by the UP government on January 24, 2018. Later, due to its success it was adopted by the central government.
ODOP was put forward
For enabling holistic socioeconomic growth across all regions
To attract investment in the district to boost manufacturing and exports
To generate employment in the district
To provide ecosystem for Innovation/ use of Technology at District level to make them competitive with domestic as well as international market
Some of the products are:
Kannuaj Attar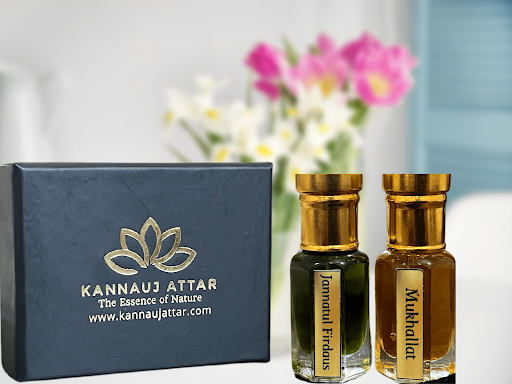 Kannauaj district in Uttar Pradesh is popularly known as 'Perfume city'. It is famous for its Attar. Attar is a traditional oil-based perfume. It is an eco-friendly alternative to modern day perfumes. It lacked proper branding and packaging. To attract the people, packaging was improved, wooden boxes similar to jewellery boxes were used. With proper branding from local stores, sales increased by 96% increase in weekly sales.
GI- Tagged Molela clay work Rajasthan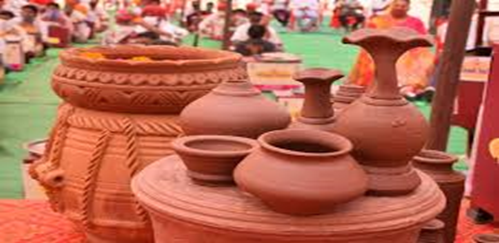 Terracotta work from the Molela village in Rajsamand district is famously known as "Molela clay work" across the world. Major countries like Australia, UK, Poland have high demand for tile , kitchenware , tableware made by this clay. ODOP has set up workshops to train the craftsmen with new tools, it is also planning to set up an e-commerce platform for these craftsmen.
Kalanamak rice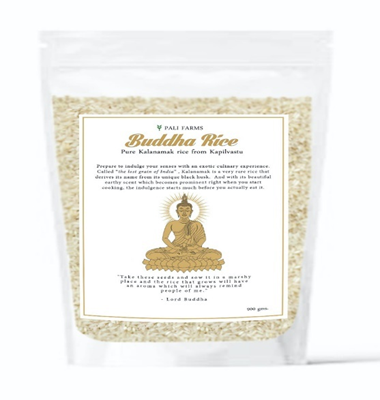 Kalanamak rice grown in Siddharthnagar, Uttar Pradesh is known for its nutrient value around the world. Due to less profits, farmers stopped growing it. Kalanamak rice was rebranded as Buddha Rice and sold in various countries.
Success story:
The partnership of the UP government and Flipkart led to a 52% quarterly growth in revenue for UP's ODOP products and generated over ₹1000 crores by selling over 2 crores products including leather products from Agra, aluminum utensils from Kanpur, toys from Varanasi, wheat stalk craft from Bahraich, and wood-carved crafts from Saharanpur, among many others. It has had a huge impact in aggrotech for storing, harvesting crops and improving the technology.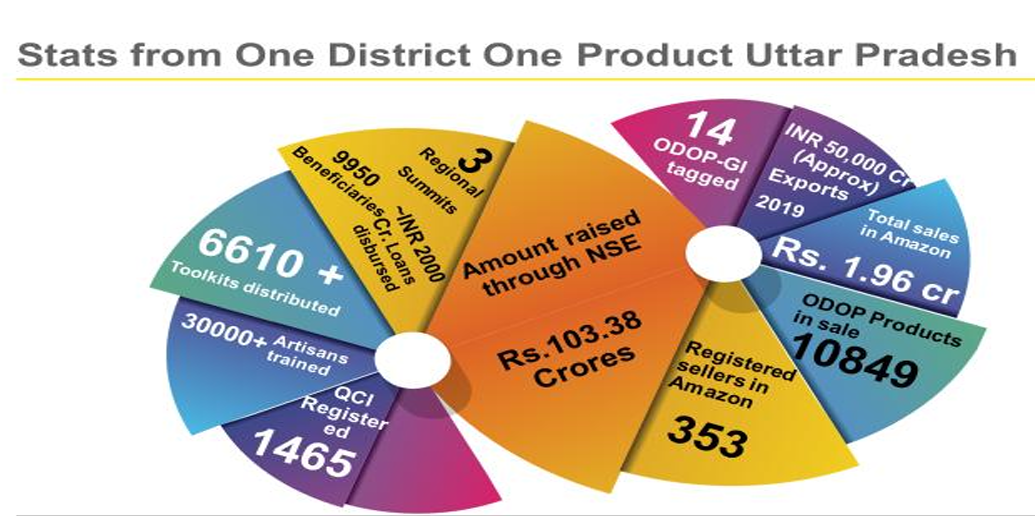 Conclusion:
ODOP is one such government scheme that supports technological advancements in traditional methods of manufacturing products providing room for new start-ups. The Indian crafts, agriculture, and food product have the potential to dominate the global market if provided with the opportunity for systemic growth and recognition. The ODOP aims to do that by providing the right support and business environment.
The scheme envisages increased access to credit by existing micro food processing entrepreneurs, women entrepreneurs, and entrepreneurs in the aspirational districts.
The main aim of this scheme is to improve the economy of the Tier IV cities by improving the market for the product . It supports innovations in the traditional methods. Thus developing the region.